荒原-歌者 Wasteland-Singer
习惯创作中音乐的陪伴,时间久了,有时声音、回忆、梦想和眼前的图像缠绕在一起,形成了一个个忽远忽近的灵魂位置。
读书时的日子有趣而荒唐,却凑成了这次创作的基础。某年元旦联欢,破旧礼堂中,急就章凑成的五人无伴奏合唱,倒也玩得风生水起。
其中,歌词提供者在宿舍走廊弹着吉他,却只能想起一半的歌词;编曲者借助几乎跑调的录音机,挑选了一段毫无难度的哼唱,借助着青春的热情,五个人的演唱倒也是深情而悠远。
我臆想过这样的场面,如果回头的速度极快,也许会看到刚才的自我站在走过的位置,而缠绕的结果,却让当年的这个场面变成了现在这样的一张图像。
也许,灵魂会挑选记忆的模样,让我们那些走过的位置变得温暖而舒适,值得回去坐坐。
我们生命的奇妙与珍贵,就在于所有抛在身后的位置都不可更改,我们是否都寻找过永恒的存在?其实,这些位置就是永恒,如果需要,我们随时都可以回到这个精神位置,目视荒原小镇中,五个人的陶醉表演。
感谢艺术,能让我有一种方法,去诉说这种难以言表的灵魂经历,并分享给他人。
I'm used to the company of music in my creation. Over time, sometimes sounds, memories, dreams, and images in front of me are entangled, forming a soul location that is far and near.
The days when I was studying were interesting and absurd, but they formed the basis of this creation. During the New Year's Day party in a certain year, in the shabby auditorium,
the five-person a cappella chorus of anxious Zhang made up, but it was fun.
Among them, the lyrics provider played the guitar in the hallway of the dormitory, but could only remember half of the lyrics; the arranger used an almost out-of-tune recorder to select a humming without difficulty,
with the enthusiasm of youth, five people sang down. It is also affectionate and distant.
I have imagined such a scene. If I turn my head very fast, I might see the self standing where I walked, and the result of the entanglement turns this scene into the image it is now.
Perhaps the soul will choose the appearance of the memory to make those places we walked warm and comfortable, and it is worthwhile to go back and sit.
The wonder and preciousness of our lives lies in the fact that all the positions left behind cannot be changed.
Have we all looked for eternal existence? In fact, these positions are eternal. If needed, we can return to this spiritual position at any time and watch the intoxicating performances of five people in the wasteland town.
Thanks to art, I have a way to tell this unspeakable soul experience and share it with others.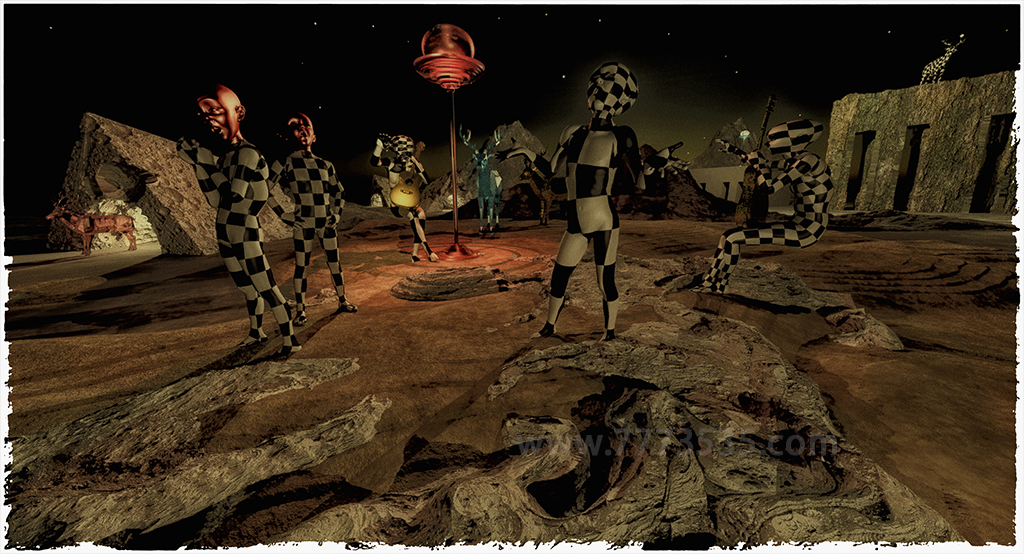 荒原-歌者 54cmX120cm 数字版画 版数9 Waste Land-Singer 54cmX120cm Digital Print Edition Number 9